Glennon Jersey Stampede On Hold
March 10th, 2014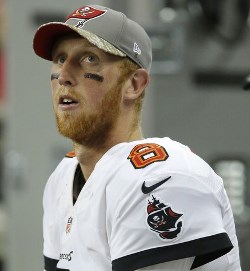 The Buccaneers/NIKE braintrust apparently doesn't believe in the vocal Mike Glennon Mob, or they don't want Glennon jerseys flooding the market yet, or they don't believe Glennon will do more than hold a clipboard in the Lovie Smith regime.
The Buccaneers started selling their stunning new jerseys today on Buccaneers.com. You can shop here. One very notable absence from that online catalog is a No. 8 jersey. You can get a Lavonte David jersey or a Mark Barron or Gerald McCoy jersey. There are Doug Martin, Vincent Jackson, Dashon Goldson and Darrelle Revis jerseys, too. But no Glennon jersey is available. How could this be?
Loyal readers here know Joe believes Glennon is nothing more than a quality backup, but the man did capture the hearts and passions of many misguided Bucs fans and national analysts after throwing 19 touchdowns versus nine interceptions last year.
Apparently, the Bucs/NIKE marketing team has ruled against Glennon — for now. Yes, Joe knows that does not represent a referendum by the Bucs coaching staff. Or could it?
To throw a curveball at the conspiracy theorists, there is a new Glennon home jersey on sale at NFLShop.com.