In Defense Of Xavier Rhodes
March 1st, 2013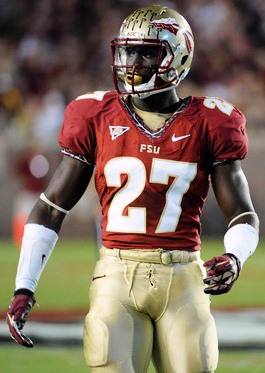 Joe is not a hatchet man, unless the intended victim deserves to be chopped up.
Earlier today, Joe posted an item from a former NFL front office executive who goes by the Twitter moniker of @NFLosophy. And while he said Xavier Rhodes was a dynamic cover corner, he essentially labeled him dismal as a tackler.
Joe wondered why such a highly-rated draft prospect was that bad. So Joe, in the spirit of fairness, turned to a couple of respected NFL authorities for their take on Rhodes.
The first was NBC and FOX football analyst Shaun King, one of only three quarterbacks to lead the Bucs to an NFC Championship game.
King, in his words, "couldn't disagree more" with @NFLosophy.
"He misses tackles but not because he is afraid," King said. Rhodes "makes a lot of big hits and is a factor in the run game. IMO he doesn't project as a No. 1 corner, more of a No. 2 guy and will flourish in a system that plays more zone than man.

"(Rhodes) doesn't play the deep ball Well enough vs. big, fast wide receivers. I've watched all of his games, even 2010, and he is a good player, but I don't view him as a No. 1-type corner. Good size, physical, decent speed, average ball skills, but he is an upgrade over what Tampa has."
Dion Caputi of the highly respected National Football Post seems to side with King, going so far as to rate Rhodes a sure tackler after watching film of Rhodes a second time.
[email protected]: FSU CB Xavier Rhodes re-eval: Niche is press coverage. Great at forcing ball carrier inside on stretch/off-tackle runs. Hard, sure tackler. … Allows receivers to cross his face too easily. A fit in zone-scheme. Redirects WRs well with hands.
Interesting that Caputi also noted something that @NFLosophy picked up on — receivers cross his face often.
This is just an example of what goes on in team war rooms throughout the NFL in meetings leading up to the draft. Scouts will see one thing in one player, others see something totally different.
Either way, Rhodes is going to be a wealthy young man in a few months. Joe sure hopes he has a great deal of succcess in the league.