Dunta Robinson Still An Upgrade
March 2nd, 2013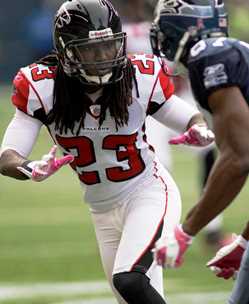 Joe was interested to learn yesterday that the Dixie Chicks washed their hands of hard-hitting cornerback Dunta Robinson.
Now Robinson may not be the same player he was before he got dinged up the past couple of years. But as rotten as the Bucs were at cornerback last year, Robinson is still an upgrade.
Woody Cummings of the Tampa Tribune just stopped short of suggesting Bucs rock star general manager Mark Dominik was going to work out Robinson at One Buc Palace.
@RCummingsTBO: Bucs fans are wondering about team's interest in CB Dunta Robinson. I can almost assure you Bucs will investigate him, at the very least
Now the numbers crunchers at ProFootballFocus are not enamoured with Robinson, basically saying he's done and was torched far too often in 2012, so Twittered Pete Damilatis.
@PFF_Pete: Dunta Robinson allowed the 5th-most yds (835) and 7th-most YAC (300) of any CB this season.
Yet if you look at a defensive passing statistic that Pro Football Focus concocted, Robinson wasn't as bad as the Adderall Twins, Eric Wright and Aqib Talib.
Per something called "Yards Per Coverage Snap," Wright was No. 102 and Talib was No. 114, both in the bottom 15 in the NFL.
In fact, Talib was second-worst in the NFL in this stat. Who was worse? Why, it was none other than the wet dream of Bucs fans everywhere, the immortal Standord Routt.
Joe is not saying Robinson would be an All-Pro with the Bucs, but he certainly be an upgrade to what the Bucs trotted out last year as starting cornerbacks.