Raheem Gets A Call From Cleveland
January 17th, 2013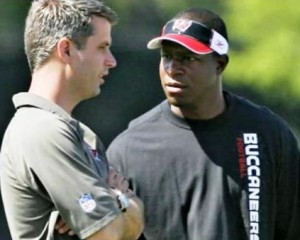 Liquor sales reached an all-time record in the state of Ohio last year, and that trend should continue if the latest news out of Cleveland Browns camp gets serious.
Raheem Morris, the architect of the failed Tampa 2.0 defense, will interview soon for the Browns' defensive coordinator position, per various reports out of Ohio and the Tampa Bay Times.
Apparently, new Browns head coach Rob Chudzynski has no interest in stopping the run.
Raheem coached the Redskins secondary in 2012. The unit ranked 30th in the NFL.
Joe thinks Raheem is a much better head coaching candidate than a potential defensive coordinator. He at least had stunning success as a head coach in 2010, when the Bucs were 10-6, started a bunch of rookies, and he was a deserving coach of the year candidate. But as a defensive coordinator, Raheem was dreadful on all fronts.
Joe wishes Raheem well.