Tiquan Underwood And The Receivers
June 26th, 2012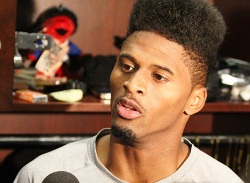 There are many questions coming into Bucs training camp in just a hair over a month. But one question does not surround the No. 1 receiver.
That question was stamped in red ink when Bucs rock star general manager Mark Dominik signed Vincent Jackson as the new toy in quarterback Josh Freeman's playpen.
Joe is pretty sure, barring injury, that Mike Williams is the No. 2 receiver. In fact, Joe would be shocked if he isn't to hear Freeman talk.
But new wide receiver Tiquan Underwood seemed to open the door to the belief that the No. 2 receiver position is not yet set in stone, as he told Stephen Holder of the Tampa Bay Times.
"Once you get past (Jackson), it's just a bunch of guys trying to make a name for themselves in this league. That just brings about competition. Competition is always good, because that makes the cream rise to the top."

Underwood added that he likes the fact that the Bucs are "a younger team. And in this league, it's a quarterback-driven league. Josh (Freeman) came out the same year as me and is going into his fourth year. And I just like the direction Coach is taking and the attitude he has with this team. It's all about hard work and I want to be a part of that."
This is an interesting quote, but again, Joe will believe it when he sees it, if Williams is not the No. 2 receiver.
After that, it's a jumble between Arrelious Benn, Preston Parker, Sammie Stroughter, Dezmon Briscoe and Underwood at this early date.
If Joe had to bet, it would be that Underwood makes the team before Briscoe, who missed much of the Bucs offseason practices due to a variety of things that Joe doesn't want to get into as he's not a reality TV kinda guy.
Just a hunch, neither is Greg Schiano.