Age Not A Factor With Martyball
January 15th, 2012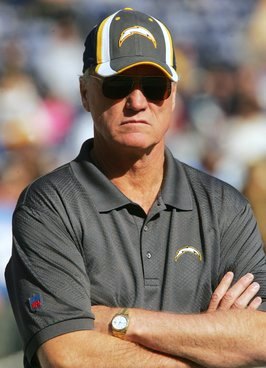 Of the known candidates to fill the void left by the Bucs jettisoning Raheem Morris, it seems the fan favorite is Marty Schottenheimer.
Though he has a stellar if not pristine record of turning around teams and having a dynamite regular season record, the noose around Schottenheimer's neck has often been his pathetic postseason record.
But it seems there is another stone being wrapped around his neck, and that is his age. Schottenheimer is 68 and some believe that is too old to coach in the NFL.
This issue was also invoked in a recent NFC South chat with ESPN's Pat Yasinskas.
Gerald (Wyoming)

I think Marty is what the Bucs need. They have a rb to pound it for Marty ball and the guy wins, what do you think?

Pat Yasinskas

He has a track record of winning in regular season. My only question is if, at 68, he might be too old to coach?
Let's dispel the age nonsense right now. Steelers defensive coordinator Dick Lebeau is 74 and just had his contract extended. His players worship him and there are few if any better coordinators in the game.
Monte Kiffin was pushing 70 when he left the Bucs. Joe didn't remember anyone bringing up age then.
Marv Levy was in his 70s when he was coaching the Bills.
Shoot, it took a sex scandal and lung cancer to take Joe Paterno out of the game and he was still winning games. Bobby Bowden was still getting to bowl games in his late 70's and his successor (thus far) hasn't done all that much better than Foghorn Leghorn (remember when people screamed for Bowden's head for playing in the lowly Chumps Bowl?).
After all, how did youth do for the Bucs' coaching staff recently?