"We Should Be Healthy Going Into Tennessee"
November 6th, 2023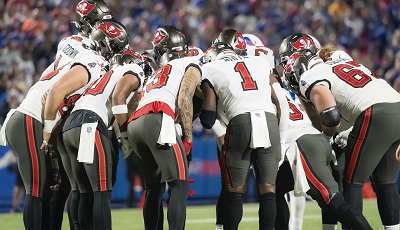 Handicappers will tell you quickly that rest is usually a team's best friend, especially if the team has more rest entering a game than its opponent.
That "rest edge" advantage hasn't played out for the Bucs this season, which is a little scary. Tampa Bay got hammered at home after their bye week and embarrassed yesterday following their "mini-bye."
That's a rough combination and next up is Tennessee at The Licht House on Sunday. The Titans are coming off their mini-bye after losing to 20-16 to the Steelers on Thursday night.
So the Titans have the "rest edge" advantage, meaning Tampa Bay will play on seven days rest and Tennessee will have 10.
At least the Bucs are healthy, which was the word from Todd Bowles today on SiriusXM NFL Radio. He said the roster came out of the Houston Horror in good shape.
"We should be healthy going into Tennessee," Bowles said after acknowledging Jamel Dean is still dealing with his Sunday concussion.
If Bowles was hiding an undisclosed injury, he likely would have said something vauge about evaluating some players after their day off on Tuesday.
Joe is glad the Bucs should be in strong health for Sunday. It's a true must-win game against a bad team, and Joe would prefer the Bucs not have any excuses entering the matchup.
Just win.