Todd Bowles Pinpoints Resiliency Failure
November 6th, 2023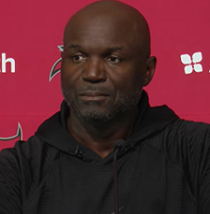 Joe didn't expect the Bucs to be mentally weak yesterday in Houston.
But that was the picture head coach Todd Bowles painted during a TV appearance today.
Remember the Texans' first drive after halftime when they trailed 20-10? It was a one-play affair for a 75-yard touchdown pass.
Whaddya know? The Bucs were in zone defense and wide receiver Noah Brown was wide open and Ryan Neal's safety help was late. Brown scampered 50 yards after the catch for a TD.
Ok. It happens. That's football. But what doesn't happen is the team now leading the game 20-16 mentally collapsing on defense afterwards.
"I thought it took us a few series to bounce back from that [Texans touchdown]," Bowles said of his defense. "That was a big play."
Joe knocked over a Big Storm beer at JoeBucsFan.com world headquarters when Bowles said that to WFLA-TV sports chief Dan Lucas.
What? So the Bucs, loaded with Super Bowl veterans and leadership on defense, mentally imploded after one big play to start the second half … with the lead? Joe doesn't know what to type.
The Texans scored touchdowns on their next two drives.