Todd Bowles Says Players Adore Baker Mayfield: "They Love Him To Death"
September 11th, 2023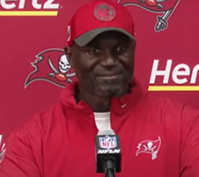 It sounded this evening like Baker Mayfield is more of a Todd Bowles kind of quarterback than 45-year-old Tom Brady was.
Hey, don't shoot the messenger. That's how Bowles sounded during a visit to SiriusXM NFL Radio.
"His mindset is unbelievable," Bowles said of Mayfield on Movin' The Chains. "You know he's a player's player. He's a warrior. He is always encouraging the guys. He leads by not just voice but example, as well. He's kind of a quarterback/offensive linemen mentality; he'll stick his face in the fan. You know, you don't like to see that as a coach all the time, but he will stick his face in the fan and get guys going — just to get guys going. These guys follow him and they love him to death, and he's a great leader. And he really has done it his whole career."
As Joe wrote yesterday after Baker Mayfield sacrificed his body for a key first down in the fourth quarter against the Vikings (following his beastly stiffarm) Mayfield won more than just the game. He won over every inch of the Bucs' locker room.
For the legions of Kyle Trask fanatics out there, Joe is sure Bowles' comments were painful. Barring injury, it sounds like there is no chance of seeing Trask unless the order comes from Team Glazer late in the season.