The Baker Stiffarm
September 10th, 2023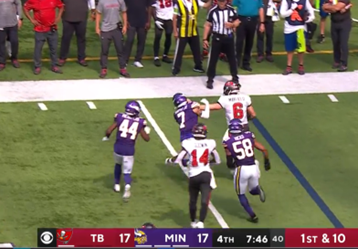 Great off-your-couch moments today in Minnesota: Antoine Winfied's trifecta, the rare sack/fumble/recovery, was a big one in the first quarter.
Christian Izien's goal-line interception was huge, too. Joe has a sweet spot for Calijah Kancey's first quarterback hit and Devin White's body slam of Kirk Cousins.
There were more.
Mike Evans' game-changing, momentum-shifting touchdown. Chris Godwin's seal-the-game catch and Baker Mayfield sneaking to daylight behind left guard Matt Feiler on 4th-and-1 in Bucs territory when the game was tied in the fourth quarter.
But Joe really loved the Mayfield stiffarm on the play after the sneak.
It looked like a designed run for Mayfield, who took off to the right and he was ready for Vikings cornerback Byron Murphy.
Mayfield had his left hand prepped to meet Murphy's face and he strong-armed him backwards. Five-yard gain for Mayfield and the Buccaneers' sideline erupted.
Joe is confident that play will make the "angry runs" feature on NFL Network tomorrow morning.
CBS game analyst Tiki Barber, the retired running back, talked on air about how hard it is to execute a stiff-arm successfully. Sidekick former QB Matt Ryan talked about how jacked-up strong Mayfield looked in their production meeting and that stiffarm looked like a quarterback who knows he's playing for his career.
Joe just liked the attitude — and the execution.