Baker Mayfield Scored Multiple Victories
September 10th, 2023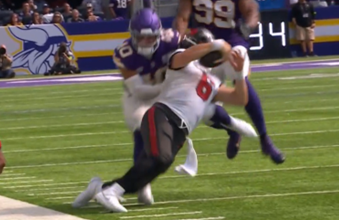 Baker Mayfield won a lot more than the game today.
Joe is very confident of that.
No matter what Mayfield's Bucs teammates said of him publicly between mid-March and this morning, none really knew what to expect when they got into a real game with Mayfield.
Most had to have a level of doubt. It's not like Mayfield has a great resume or a bunch of former teammates on the Tampa Bay roster.
Today was a day for players to see whether Mayfield would really put his life on the line to win a game for them, and if he had it in him to step up under adversity. He did both.
Joe would challenge any fan to study the CBS video of Mayfield's late-game scramble for a first down on 3rd-and-2. He rolled right and didn't see anyone open, and then he took off.
The vicious hit clearly coming from the Vikings linebacker was not in Mayfield's brain. He was all-in for the team and didn't shy away and head for the sideline.
First down, Tampa Bay! And the sideline erupted as the video shows below.
It really is Mayfield's team now. It needed to happen for the Bucs to play their best ball, but it's great it came in Week 1.
That should bode very well for these next three games before the Week 5 bye.
BAKER GIVING EVERYTHING

📺: #TBvsMIN on CBS
📱: Stream on #NFLPlus https://t.co/G4uoYVOqQn pic.twitter.com/1ua1zPS6rP

— NFL (@NFL) September 10, 2023