"I'm Pretty Much Delusional When It Comes To That"
September 11th, 2023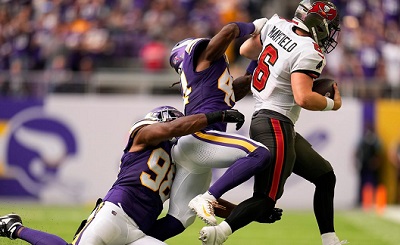 One of Joe's offseason themes was "Todd Bowles needs wins."
He got a glorious one yesterday behind his big-play defense and a sacrifice-my-body edition of Baker Mayfield rallying the Bucs from a second-quarter deficit.
Joe has written about Mayfield's successful stiff-arm of a Vikings linebacker for a five-yard gain in the fourth quarter, and Joe adored Mayfield later turning up field to run on a critical 3rd-and-2. That play ended when a linebacker nearly decaptitated Mayfield but he held on for the key first down.
Mayfield was asked about his physicality after the game on the CBS postgame show.
"I'm pretty much delusional when it comes to that. I need to protect myself," Mayfield said of embracing contact on those runs rather than taking cover.

"But there's certain things on like a third down right there where you got to go get it. It's a team game; you need everbody when it comes down to those critical moments."
Back to "Big Balls" Bowles. He still needs wins, and that will require Mayfield staying healthy unless you're among the mob that believes Kyle Trask would have done just as well yesterday in the hostile Vikings dome.
Bowles can't have Mayfield sacrificing his body routinely, and it was good to hear Mayfield knows that. Still, winning is what the game is about. And as long as Mayfield is putting his body on the line intelligently and only in crunch-time spots, Joe's fine with it.