Todd Bowles And Readiness
August 28th, 2023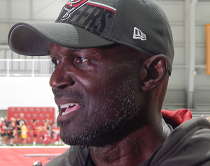 Camp Cupcake might have gotten more frosting and a cherry on top this year.
After the Bucs won the Super Bowl, then-head coach Bucco Bruce Arians said he would pound the snot out of his team in training camp to ready them for the season. Joe presumes the goal was to shake the Super Bowl partying out of them.
However, Arians found himself midway into August 2021 running what he called "Camp Cupcake" because NFL rules have limited how hard coaches can push players in training camp.
Enter Todd Bowles. He did a great job readying the Bucs last season through a not-so-tough training camp and Tampa Bay opened the season with road wins at Dallas and New Orleans.
This summer, Joe thinks Bowles got even easier on his team.
Mike Evans and Lavonte David didn't sniff any preseason snaps. The plan for two joint practices against the Jets turned into just one, and Bowles put the team in shorts and t-shirts the following day for a very light session. There were other underwear football practices, too, when the Bucs could have been in pads.
Joe thought more about this last week when 49ers head coach Kyle Shanahan was on KNBR-AM radio noting his team's Wednesday practice was their first of the summer not in pads.
Joe is not knocking Bowles' preparation for the season. Joe has a ton of faith after how well the Bucs defense and run game opened 2022 against a good Dallas team. Still, it's always worth looking deeper into how the Bucs have readied themselves.
Former Bucs guard Ian Beckles (1990-1996) was barking on his podcast early this month appalled that the Bucs let Joe Tryon-Shoyinka sit out preseason games, among others.
Relatively speaking, it was a light summer for the Bucs' starters. Joe's eager to see if that's a factor — good or bad.