What To Make Of The Bucs' Run Game
August 28th, 2023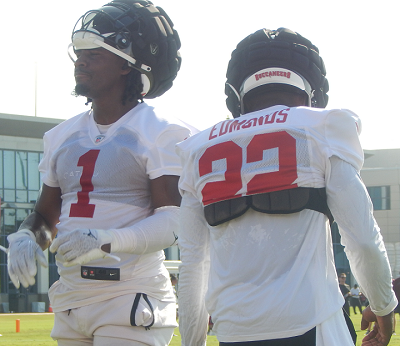 Regular JoeBucsFan readers might want to puke because they've read the following so much.
Joe is suspicious of the Bucs' run game because the team didn't upgrade at running back after cutting Playoff Lenny — the top rusher for a unit that was worst in the NFL last year.
Was Saturday night a sign Joe is way off base?
It's very, very risky to bank on reads or tells from a preseason game. That's one of many reasons why Joe thinks they are worthless. Both teams Saturday completely emptied their benches by the second quarter.
However, if results from a preseason game are some sort of crystal ball moment, what are fans to make of the Bucs running for 158 yards on 33 attempts Saturday night against the Crows?
It may demonstrate that new Bucs offensive coordinator Dave Canales knows what he is doing. It also may help demonstrate that his predecessor, SpongeBob Leftwich, had zero clue how to craft a running attack. Maybe both? (The Bucs averaged just 3.3 yards per carry last preseason.)
The last time the Bucs piled up 158 yards rushing in a preseason game, it was an identical tally at Jacksonville back in 2016.
For the 2016 season, the Bucs ranked 24th in the league in rushing, finsihed 9-7 and lost out a wild card playoff berth to the Lions.