Aaron Rodgers Talks To Bucs
August 28th, 2023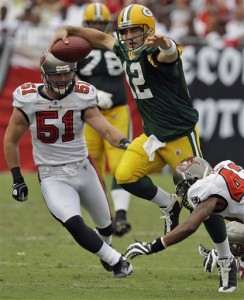 Legendary quarterback Aaron Rodgers had plenty to say on the field with the Tampa Bay Buccaneers 12 days ago.
The Jets had him mic'd up and Joe broke down the film searching for any Bucs nuggets.
Rodgers came to say hello and embrace Todd Bowles, who offered congratulations. Bowles then oddly said, "Hey, if you need anything, give me a shout." Joe wonders if Rodgers has called Bowles previously for his take on an opponent.
Rodgers is then heard, apparently randomly saying, "Carlton Davis, good player."
Shaq Barrett finds Rodgers playfully in his face saying, "No pass rush [today]; get outta here." Later, Rodgers approaches a Bucs defensive huddle and heads for Shaq, and tells Bucs," No hard count today, all on "1." … I'll "make it easy."
Rodgers later does a hard count in 11-on-11 and trash talks Vita Vea before the actual snap.
Bucs safety  Ryan Neal and Rodgers seem to know each other.
Rodgers asks Baker Mayfield after a hug, "Things going all right?" Mayfield replied "Going good." Rodgers later asks Mayfield about a body of water in Texas and where he's living. Mic'd up team bleeps out Mayfield's comments on his home.
Tom Moore to Rodgers, "You're almost as old as me but you'll never catch me." Rodgers asks Moore if he still loves his job and they both talk of enjoying the game.
To Chris Godwin, "What's up stud?"
Bucs right tackle Luke Goedeke has a conversation with Rodgers about heat during practices in Tampa. Rodgers asked Goedeke what's the most weight he's lost in a practice. Goedeke replies 12 pounds.
Rodgers seeks out Antoine Winfield, Jr.  and walks toward him, "Hey Win."
In game action, Logan Hall beats a Jets double team but sort of spins himself out of a direct line to Rodgers, who eventually is chased out of bounds by Hall. Rodgers then playfully teases Hall after the play.
In another scene, Rodgers claps Logan Hall in the chest after a play awfully hard. Joe realizes many Bucs fans will be surprised to hear of Hall near the quarterback.
While calling signals at the line of scrimmage, Rodgers barks to Bucs safety Nolan Turner who was showing blitz, "You're not coming. Back up.'" The ball snaps and Nolan retreats.