Passing Calvin, Catching Irvin
June 5th, 2023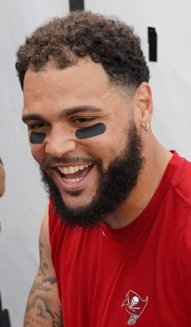 Joe laughs when folks question whether Mike Evans is worthy of the Pro Football Hall of Fame.
First, Evans already holds a unique and extraordinary receiver mark. For nine consecutive seasons to start his career, Evans has 1,000 or more years in each season. And one of Joe's favorite aspects of that NFL record is that Evans has never played 17 games in a regular season.
But Evans also is a beast (historically speaking) when it comes to catching touchdowns, and he's also got 683 career catches in the regular season.
For perspective, if Evans has a typical 2023 with 70 catches (he's never had less than 68 in a season), Evans will pass three Hall of Fame receivers and other stars, including Demaryius Thomas, Calvin Johnson, Santana Moss, Greg Olsen, Andre Rison, Donald Driver, Charlie Joiner and Michael Irvin on the career catches list. Irvin has 750 receptions.
And when January rolls around Evans will be just 30 years old.
Joe has mentioned this previously, but Joe really hopes Evans gets to 11 touchdowns this season. That would tie him all-time with Rob Gronkowski at 92.
Not only did Gronk need 11 seasons to reach that mark (Evans would get it in 10), Gronk had the greatest quarterback in history throwing him the football. Evans would make it with the likes of Josh McCown, Jameis Winston, Ryan Fitzpatrick and Kyler Traskfield in his huddle.
Joe is trying to savor every minute of the Mike Evans era.