Bruce Arians: Tom Brady Never Brought Personal Troubles To The Field
February 9th, 2023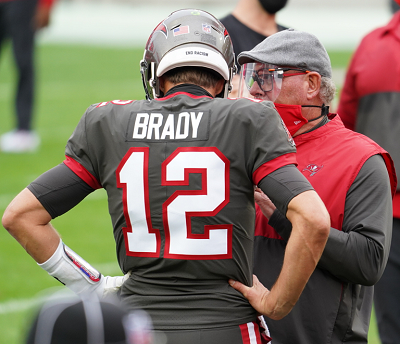 Tom Brady bailed on a week and a half of training camp and Devin White even said he was praying for Brady when, as White called it, Brady had "personal problems going on."
That scenario sure gave Joe a vibe that Brady's personal issues did affect what was happening on the field. And then there was a surprise late-summer weight loss Brady had that may have affected is performance in some way.
Joe could give other examples of Brady being not quite Brady this season, but Bucco Bruce Arians wasn't going there today.
Arians is in the frenzy at Radio Row in Phoenix and he sat down with an Outkick.com show broadcasting live. Arians said he wasn't surprised by Brady's retirement but he also wouldn't have been surprised if Brady came back to the Bucs. "Tom can still sling it," he said.
"It was such a tough year personally for him and I was so proud the way he battled through this whole thing and never brought it to the field," Arians continued. "It was hard on him but what a great, great human being. Great teammate."
Joe found it interesting to hear Arians stress how Brady struggled but kept it off the field completely. Joe's not sure Brady did keep it off the field, which was one of many reasons Joe thought Brady was primed for a bounceback season in 2023.