The Nick Chubb Factor
November 26th, 2022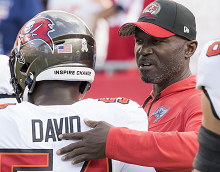 The Bucs' key to victory tomorrow very much revolves around the running back drafted three picks before Ronald Jones in 2018.
That's three-time Pro Bowl Browns running back Nick Chubb, who is off to a Hall of Fame start to his career. Chubb ranks No. 3 in NFL history among running backs at 5.3 yards per carry. That's even better than Browns legend Jim Brown (5.2).
So stopping Chubb must be a major priority for the Bucs. When Chubb has less than 100 yards in a game this season, the Browns are 0-5. When Chubb gets less than 20 carries, the Browns are 0-7.
Feeling a theme?
It's a big reason why Buccaneers savior linebacker Devin White is looking for 15 tackles on Sunday, though thinks Lavonte David might foil White's plan.
Frankly, Joe doesn't expect the Bucs to lock down Chubb in some sort of extraordinary way. However, Joe does expect the Bucs offense to provide a lead that grows into one that forces the Browns to throw and sideline the Chubb train.
---
Ira Kaufman Shares Bucs-Browns Meaning And Predictions, Talks Tom Brady Philosophy, Running Back Changes & More