Picking The Bucs While Believing Tom Brady Isn't Good
November 12th, 2022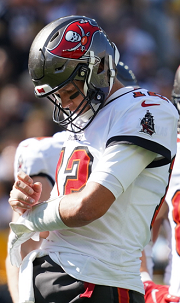 NFL media types, especially former players, can be hard to figure out sometimes.
Joe will pick on former Bucs QB Chris Simms here. He's a big-time NFL analyst for NBC and does a great job.
Earlier this week Simms explained that Tom Brady "is not very good anymore." Keep in mind Simms is a Bucs-friendly guy and was an assistant coach on the Belicheats staff when Brady was there.  Ok, Simms is entitled to his analysis, but then yesterday, Simms comes back and picks the Bucs to beat the Seahawks tomorrow.
Seattle is hot, winning four in a row and they've been a consistently physical football team en route to their 6-3 record.
Simms is among the many Geno Smith non-believers — a club that's probably way too big. The Seahawks starting QB is having a career year at 32 years old, completing 73 percent of his passes and not turning the ball over much (15 TDs, 4 interceptions).
Seattle has one of the best running games in the NFL and an opportunistic but nothing special defense that's improved during the Seahawks' current streak. They've also got an impressive head coach.
The Bucs have struggled mightily to score points (18 per game), but their defense is good, though less consistent than in past years. And it's the defense that Simms thinks will get the job done for Tampa Bay tomorrow.
Simms said on Pro Football Talk he's just not a believer in the Seahawks, and he's not starting today. He also thinks Seattle is a favorable matchup for the Bucs.
"I don't know if I look at [the Seattle defense] to go, 'Oooh, it's dominant enough to really give problems to this Tampa offense.' I mean I know nothing's easy for Tampa's offense here. I get that. But I don't think they're going to be overwhelmed by Seattle here," Simms said.
He's picking the Bucs to win 23-21.
Joe sure hopes Simms is accurate, then he can explain how Brady led the Bucs to victory despite being "not very good anymore."