"They Think The Last 44 Seconds Of Their Game Against The Rams Could Turn Their Season"
November 12th, 2022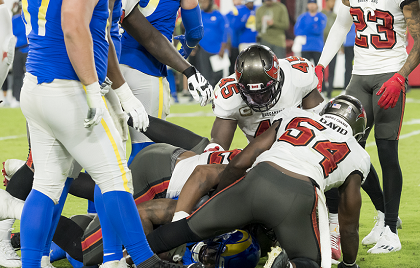 Teams good and bad tend to have pivotal moments in their seasons.
Joe could give a Bucs history lesson of those key times in Tampa Bay campaigns.
Some are famous, others are more hidden. There also are critical games in the tenures of head coaches.
For example, if the refs don't call a ludicrous offensive pass interference call on Kellen Winslow in the end zone, the Bucs would have beaten the Lions and finished 11-5 back in 2010. Instead, at 10-6 they lost a playoff-qualification tiebreaker to Green Bay. The Packers won that Super Bowl, and then-Bucs coach Raheem Morris can't say he took one of the youngest NFL teams in history to the postseason.
Late in 2015, if Doug Martin doesn't fumble twice at home against the Bears, the Bucs win that game and don't close the season with four straight losses to finish 6-10. Perhaps Lovie Smith would have returned after improving from a two-win 2014 season.
A year later with Dirk Koetter as head coach, if Martin didn't fail a drug test and get suspended with the season on the line on Christmas Eve against the Saints, perhaps the Bucs make the playoffs and their history changes.
The 2020 bye week was a critical time for Bucco Bruce Arians' title team. Tom Brady got with coaches to tweak the offense and Arians worked on getting Leonard Fournette's mind right. The Bucs won the next eight games including the Super Bowl and Playoff Lenny was born.
In Germany doing play-by-play for tomorrow's Bucs-Seahawks game is NFL Network voice Rich Eisen. He's spent time around both teams in Munich and called into his own TV show yesterday to say the Bucs are steaming with optimism.
Why? Because of their late comeback against the Rams on Sunday to capture an ugly 16-13 win.
"They think the last 44 seconds of their game against the Rams could turn their season," Eisen said of his impression of the Bucs.
Joe so hopes Eisen is right, but it seems farfetched. If the Bucs have turned a corner, then Joe thinks i happened in the film room this week with Tom Brady, Byron Leftwich and other coaches hammering out real fixes to their bumbling offense, including which personnel is leaned on.
With a new head coach and veteran leadership, the Bucs' confidence shouldn't have been in the toilet before last week.
Get the Xs and Os right and stop the loafing, and that should bring the Ws.