Coach Gives "B" Grades For Lavonte David And Devin White
November 30th, 2022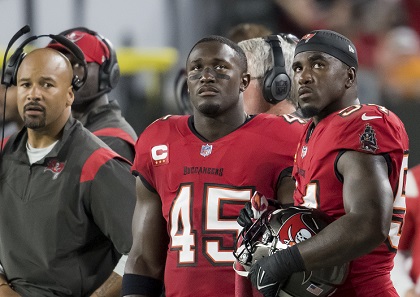 Lavonte David, Devin White and Carlton Davis have combined for zero interceptions through 11 games. That's hard to swallow, even for head coach/defensive playcaller Todd Bowles.
The Davis streak is at 20 games, so that's no surprise. But grouped with the dynamic inside linebackers, it's even more disturbing.
Bowles hopped on the Buccaneers Radio Network this week and gave David and White "B" grades for their games against the Browns on Sunday.
Tackling wasn't perfect, Bowles said, and there was "a gap or two they misfit." And the head coach is seeing lost picks.
"We just gotta break on the ball better because there's interceptions out there to be had that we need to make," Bowles said of David and White.
The Bucs sure to do need more big plays, but this wouldn't even be a conversation if the offense wasn't miserable.
Regarding David, Joe painfully was starting to think he's significantly declining, but then he stepped up with a big play on third down on the Browns' final drive of regulation. So Joe buried that thought.