Carlton Davis' Streak Hits 19 Games
November 18th, 2022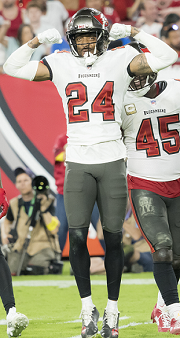 Joe was waiting to write this post when Carlton Davis broke his dubious streak, but it never happened. So Joe is sharing today.
The Buccaneers' No. 1 cornerback is riding a 19-game streak without an interception. That includes the Bucs' two postseason games last year. Over his last 30 games, Davis has just one interception.
There's a lot more to being a great cornerback than interceptions, but Joe really hoped this would be a breakthrough season for Davis when it came to forcing turnovers. Davis has a forced fumble this season but none last year in the regular season or playoffs.
When Joe thinks of the Bucs looking more like a dominant contender, Joe's mind goes to the team forcing more turnovers and the offense capitalizing on short fields.
The Bucs defense has 10 takeaways in 10 games, which ranks tied for 21st, though some teams with fewer turnovers have played one less game than Tampa Bay.
With the offense now coming around, if the Bucs can get their turnovers totals closer to their goal of at least two per game, then the Ws should start piling up easily against a relatively weak remaining schedule.
Hopefully, Davis is part of that takeaway surge.
---
Todd Bowles Confidence Poll (Week 11)
Flash poll posted at 9:36 a.m. Poll closed at 1:21 p.m. Last week's results linked here.