Tom Brady Arm Strength Is Questioned
October 31st, 2022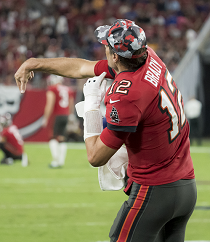 This isn't Joe going here, it's a former Pro Bowl quarterback who has spent many dozens of hours around Tom Brady.
For nearly two decades, Phil Simms was the top game analyst for CBS, which meant he called a ton of Patriots games for the network. That sent Simms, the 15-year Giants quarterback, to plenty of New England practices and sit-downs with Tom Brady in pregame production meetings.
On Friday, Simms was on SiriusXM Mad Dog Radio saying he saw Brady without the usual zip on his throws against the Ravens on Thursday Night Football. Interestingly, Simms said that could have been due to throwing too much in practice.
Did Brady overdo it on a short week?
NFL.com reported in September that Brady would not be practicing Wednesdays during football season. Head coach Todd Bowles didn't refute the report, but he did say Brady is indeed practicing Wednesdays because there's lots of work to be done.
Joe respects the hell out of Simms, but Joe is seeing Brady's arm strength on display in every game. Brady's overall consistency, however, has taken a step back this season.
Will a mini-bye fix whatever ails Brady? Joe wishes the Bucs problems were that simple.
---
Ira Kaufman Explores Answers, Responds To Tough Byron Leftwich Questions, Addresses Jason Licht's Future, And Much More