"They Fell Sound Asleep"
October 31st, 2022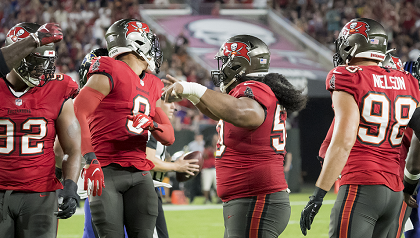 The quit/lack of energy in the Bucs' game is glaring and Bucs icons like Rondé Barber and Warren Sapp have talked about it publicly.
They're not alone.
Joe doesn't know anyone who watches the Bucs and says, 'Damn, they get after it physically for 60 minutes. What a physical bunch. Todd Bowles has those guys playing hard.'
It's a sad commentary. The Bucs go soft for stretches of games.
The dynamic radio duo of former Bucs scout and Jets personnel executive Pat Kirwan, with co-host Jim Miller, the former NFL quarterback, talked about it last last week on SiriusXM NFL radio.
It's a very embarrassing subject to anyone who cares about the Bucs.
They noted how the Bucs came out playing intense football on Thursday night before napping after jumping out to a 10-3 lead. "They fell sound asleep," Kirwan said.
Joe refuses to accept that the Tampa Bay roster is bad and isn't up to playing hard. Most of the roster was on the team when the effort was consistent the past two years.
It is said that teams reflect the identity of their head coach. Maybe that's unfair. Maybe it's not.
Regardless, the Bucs collectively are a soft team because they choose to be. If Todd Bowles can't squeeze 60 hard, no-excuses minutes out of his team on Sunday against the Rams, then Joe will assume all hope is lost for 2022.
---
Ira Kaufman Explores Answers, Responds To Tough Byron Leftwich Questions, Addresses Jason Licht's Future, And Much More