Hurricane Excuse Emerges
October 4th, 2022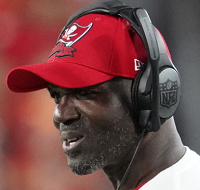 The Bucs faced adversity last week, relocating on short notice with a modern day Noah's Ark of players, pets, family members and luggage to Miami so they could practice and evacuate Tampa simultaneously.
Todd Bowles noted tonight on the Buccaneers Radio Network that he's never seen so many dogs than he did at the team hotel in Miami. And Joe noted how Cameron Brate and Tristan Wirfs separately mentioned screaming kids at the hotel in a not-so-flattering light.
Bowles also said (admitted?) that game prep was an issue last week, and he wants to see top-flight readiness on the field Sunday against the Falcons.
"Preparation, you know, the biggest thing is preparation and practice," Bowles began. "You'll play how you practice. With all the movement last week I don't think we prepped as well as we should have or as well as some people could have. But preparation will be the key this week."
So there you have it, the head coach thinks the team collectively wasn't as ready as it could have been on Sunday Night Football.
Is that a good excuse for losing to the Chiefs? It doesn't really matter. Tom Brady says it's not. Jamel Dean doesn't think so either, though he thinks it was a factor in the Bucs not being "locked in."