"I Feel Like We Wasn't Locked In"
October 4th, 2022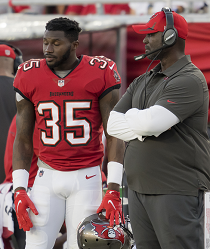 After a lot of time to reflect, a stud of the Buccaneers defense shared a moment of clarity on what went wrong Sunday night.
"I feel like we wasn't locked in this game," cornerback Jamel Dean told the Buccaneers Radio Network.
Sunday Night Football against the mighty Chiefs? With a storm-stressed community yearning for the little bit of relief a Bucs win would provide?
How could the Bucs not be locked in?
"You know, maybe it could have been what we had to go through the whole week," Dean said of the team practicing on the road to avoid the storm. "Not making an excuse but I'm just saying possible factors. Like traveling to Miami and traveling back to Tampa. And you know, you got families to worry about. So it could have been a lot of factors, but it's no excuse."
"I just feel like we wasn't playing for like each other this game," Dean said. "It was more of everybody was just doing their own thing trying to make a play. But football doesn't work like that, it's a team game."
Playing that way, Dean said, is "chaos."
Interestingly, Dean said Todd Bowles sort of warned the defense that it wasn't showing enough leadership in practice and that needed to be stepped up. Dean added that their performance against the Chiefs was a bit of a wakeup call and showed the Bowles was on point with his leadership assessment.
Joe's not sure how this happens to a veteran team on a huge stage — at home — but it did. Hopefully, the Bucs got it out of their system.