Assessing The Fresh Blood
October 16th, 2022
BY IRA KAUFMAN
Sage Ira's work is presented by Bill Currie Ford.
It was a very busy offseason for the Tampa Bay Buccaneers – not necessarily a productive one.
Instead of returning all 22 starters from a championship team, the Bucs made a flurry of moves in the spring and summer. Through five games, most of the newcomers have struggled to contribute. To be fair, injuries have played a major role in some circumstances.
Some.
Here's a fresh look at the fresh blood:
SHAQ MASON: Excellent return for Jason Licht, who stole Mason from the Patriots for a fifth-round draft pick. Mason has started every game at right guard and has proven to be an upgrade from Alex Cappa.
RUSSELL GAGE: Twelve of his 23 catches came against Green Bay in Week 3 and he's still earning Tom Brady's trust. A long gain of 15 yards and an average of 7.5 yards per reception aren't what the Bucs had in mind when they signed Gage as a free agent from Atlanta.
LOGAN RYAN: His football intelligence has rubbed off nicely on Tampa Bay's young defensive backs, but Ryan has played only 54 percent of the snaps. He has posted an interception and a forced fumble, but a foot injury has Ryan sidelined in Pittsburgh.
KEANU NEAL: This physical safety is starting to see more action while Ryan recovers. He has played 50 percent of the snaps in the past two games and is starting to make his presence felt.
AKIEM HICKS: A foot problem has sidelined him since Week 3. With only one QB hit, Hicks hasn't made much of an impression on Buc Nation as he tries to replace ultra-durable Ndamukong Suh.
JULIO JONES: A major disappointment to date, Jones has played all of 50 snaps all year. He has one catch since injuring his knee in the season opener. Todd Bowles is being very cautious with the future Hall of Famer.
KYLE RUDOLPH: Signed on the brink of training camp, Rudolph looks like he is done at the age of 32. He has seen only 18 snaps and has caught only one pass.
JAKE CAMARDA: The Bucs have to be pleased with both the distance and the hang time of Camarda's punts. Only six of his 22 kicks have been returned.
LOGAN HALL: Tampa Bay's initial selection in the 2022 draft has flashed his skills sporadically with 2 sacks and 4 QB hits in limited playing time. His snap count of 41 percent figures to rise significantly.
LUKE GOEDEKE: This second-round pick has lined up at left guard for every snap through five weeks. He's been flagged for only one holding penalty, but he needs to show more physicality as a run blocker.
RACHAAD WHITE: It's been a mixed bag for this third-round rookie. He can't be happy with an average of 2.2 yards per carry, a grim reminder of Ronald Jones'  struggles in 2018. Still, he's starting to make an impact in the 0passing game.
CADE OTTON: A fourth-round pick, Otton is beginning to come on while Cameron Brate recovers from a concussion. He caught six passes against the Falcons last week. The Bucs would like to see a better average yards per catch than 7.6, but Otton is trending up. His blocking? Let's call it a work in progress.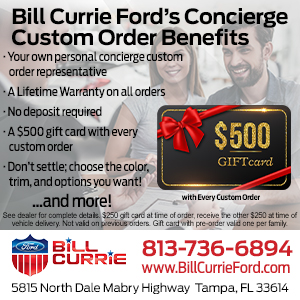 ---
Ira Kaufman Has A High-Octane Brady 2023 Debate And A Fiesty Receivers Discussion, Talks Defensive Mindset, Running Game Perspective, Steelers Game Predictions, NFC South Changes & More