Tom Brady: "I Feel Great Today. I Feel Great."
September 15th, 2022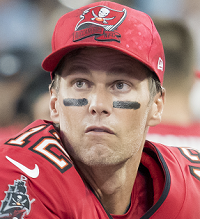 It's official. Tom Brady's Monday morning soreness is as meaningless as Leonard Fournette's weight in June.
Bucs Kickoff podcast host Rock Riley asked Tom Brady today about the comments he made Monday on his Let's Go! podcast, when Brady lamented being sore and remarking that he thought, 'Holy sh*t, there was a few hits.'
Brady shut down Riley quickly. "I feel great today. I feel great."
Joe believes Brady and, of course, Brady doesn't want anyone to think he's banged up even if were. Remember, Brady is the same guy who quietly played through the 2020 season with a significant knee injury.
Joe wonders if Brady regretted that Monday comment. However, given that it's Brady and the podcast is pre-recorded and edited, perhaps Brady had a hidden reason why he wanted people to think he's feeling his age.
Regardless, The Goat feels good while Saints QB Jameis Winston is on their injury report with a back injury. Jameis is expected to play Sunday against the Bucs.