Tom Brady: Holy Sh*t There Was A Few Hits
September 12th, 2022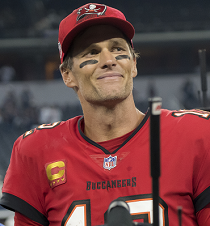 Tom Brady sure was introspective today.
It was a big theme of his Let's Go! show on SiriusXM Mad Dog Radio.
Brady talked about the intense physical commitment required to play at his age and implied that he could play many years if he was willing to put in the all-consuming work.
The way Brady was talking, this morning's bruises were a wake-up call.
"There's no margin for error when you're 45," Brady said.  "You know, you take hits and you feel every hit. When you're younger, your body's a lot different. And when you're 45, your body changes a lot. So what am I dealing with today? I woke up today going, 'Holy sh*t there was a few hits.'

"And you look at your arm and you got bruises, you got cuts. And you go, 'Ok, how much longer do I want to make this commitment?' And I obviously made the commitment for this year and everything's going to be like always — continue to evaluate all these different aspects of playing."
As Joe has written many times, the better the offensive line pass blocks this season, the better the odds of Brady coming back to Tampa for the 2023 season.
For the record, Brady was hit just four times last night and didn't take any brutal shots.