Jamel Dean Has Gone Next-Level In Quest To Improve
September 25th, 2022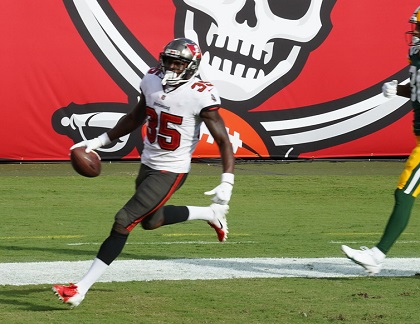 Buccaneers starting cornerback and bag-chaser Jamel Dean is not messing around when it comes to improving.
That's what happens when a guy truly yearns to be great. And it doesn't hurt to be in a contract year.
Dean will appear later today on the Buccaneers Radio Network pregame show and talk about how he sought help from offensive coaches to learn about his own game and how offensive players see the game in a quest to improve. Buccaneers-employed reporter Casey Phillips revealed this in a team-produced YouTube show. She gave an advance tease of her Dean interview and noted how Dean says he's already enjoyed the fruit of his study with offensive minds.
Smart and savvy play by Dean, who had two interceptions last Sunday.
Bucs fans remember well what happened the last time Aaron Rodgers and the Packers came to The Licht House, early in the 2020 season. Dean seemingly sucked the will out of Rodgers on that hot day with a pick-six (photo above).
Let's do it again today, Jamel!
---
Ira Kaufman Fires Away On All Kinds Of Bucs-Packers Angles & Serves Up Predictions, And More