Jamel Dean Says He's Money Motivated
May 5th, 2022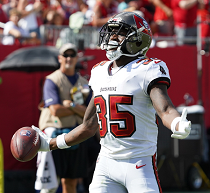 The Buccaneers' defensive backs have been a tight, young unit for years.
Heck, cornerbacks Jamel Dean and Carlton Davis were even college teammates.
Fourth-year man Dean, a 2019 third-round pick by Tampa Bay, watched his buddy Davis score a fat contract this offseason that will pay Davis $15 million per season. That reality has "inspired" Dean, he told the recent Slice video at Buccaneers.com.
Dean, 25, said he's reset his goals for 2022, and they're very much driven by cash.
"I'm taking like a new approach into this year knowing that it's the last year of my contract," Dean said. "And I feel like, you know, I won't know if I'm going to get a second contract or not. So I'm trying to do the best I can to try to earn a second one."
Joe is fired up to see what Dean can deliver this season. He said he learned a lot about being "the guy" for a handful of weeks when injuries took out Davis and others in 2021, including benefiting from mentoring by his youth idol, former Bucs cornerback Richard Sherman.
Dean confirmed that he's been running 21 miles per hour recently while being held back by resistance bands. And then the young man who ran a 4.3 40-yard dash at the NFL Scouting Combine declared himself the fastest player on the Bucs.
Used to being on top, but believe this is a first month that we've topped the others combined. 👈
A special thanks to all the fans for your support.
Data from @SimilarWeb pic.twitter.com/izq9KfGzeK

— JoeBucsFan (@JoeBucsFan) May 5, 2022