Silencing Skeptical Bucs Fans And Setting A New Standard
September 25th, 2022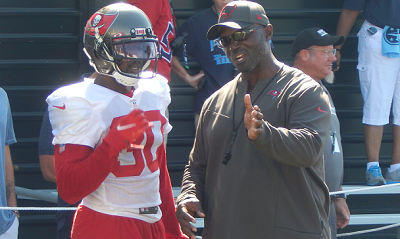 A huge chunk of Bucs fans ran around this spring and summer saying the Bucs would be happy and/or lucky to open this season 2-2.
Those fans were freaked out by the schedule's opening gauntlet of playing at Dallas and at New Orleans before coming home to face Green Bay and Kansas City.
Joe never tells fans how to think, but thoughts of those doubters sure would give Joe an extra big smile if the Bucs win today to up their record to 3-0.
That would extend the Bucs' current run to 25-5 in their last 30 games, a historic franchise run that includes a Super Bowl win. It's the stuff dreams are made of and Joe would suggest all fans revel in what's been happening. Think about that for a few seconds; the Bucs would go 25-5 with a win today.
Regardless, the Bucs were good enough to beat a weakened Dallas team on opening day, followed by topping a physical Saints team led by an inconsistent quarterback coming off a major knee injury, a guy with broken bones in his back. Today is a different story.
The Packers are a team much like the Bucs when it comes to their injuries and available talent — and their A-list quarterback. Joe is expecting a supreme test from the team that's won 13 games in each of its last three seasons.
A win today shuts up every local and national critic, and it cements the Todd Bowles era as one that got off to an incredibly special start. Joe also believes a "W" would inject a new level of confidence into the team, one they're going to need in order to knock off Kansas City next week.
Yeah, the Bucs could still go 2-2. But would anyone still embrace that start?