Another "Excused" Absence For Tom Brady
August 11th, 2022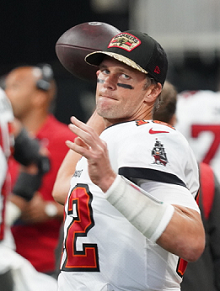 UPDATED 11:33 a.m. – It's official. Something is going on with Tom Brady.
Brady took his birthday off eight days ago and wasn't on the practice sidelines, and then the Bucs were off as a team the following day. Then everyone returned on Friday but not Brady. The team said it was an excused absence.
The Goat returned on Saturday but now he's off again today, with the Dolphins in town for the second day of joint practices with Tampa Bay.
The red flag officially is up, especially after Brady was all smiles yesterday, as Joe explained. It's doubtful Brady is injured, but it's possible he's out seeking a second opinion on something. Keep in mind this is the same guy who played through a knee injury in 2020 and nobody knew.
More than likely, it's something in Brady's personal life that's keeping him away from the team, as NFL Network reported below. (No, not center shopping.) Joe can only hope that everyone around Brady, including Brady, is healthy.
Lots of big-time work coming for second-year QB Kyle Trask.
See noon story on the home page.