Sensor Data Places Tom Brady Below Top-10 Elite Deep-Ball Passers
June 3rd, 2022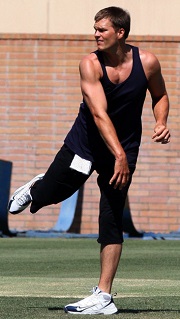 Joe largely respects and appreciates the objective nature of the NFL's official NextGen stats, data derived from sensors in equipment and concrete mathmetical formulas.
This week, the league's spreadsheet nerds set out to determine the 10 most effective deep ball throwers. Quarterback throws of 20 "air yards" or more qualified. So dumping a ball off to a running back who scampers for 21 yards doesn't count, and neither does a 16-yard pass to a reciever who adds five yards of YAC.
Tom Brady did not make the list, though he was lumped in with three other QBs just outside the top-10 tier.
Josh Allen led the way, but most surprising to Joe was former Falcons QB Matt Ryan checking in at No. 2. You can read the complex report here.
On deep shots, Ryan was 20-of-42 for 718 yards, with 3:1 TD-to-INT ratio and a 107.7 passer rating
This sort of backs up Joe's own research on new Bucs receiver Russell Gage's potential ceiling in Tampa. It's very rare for a receiver to improve when he leaves Matt Ryan's nest.
As for Brady's deep ball, Joe wouldn't trade him for anyone. Sorry, NextGen.