A Quarterback Challenge For Tom Brady, Russell Gage
May 25th, 2022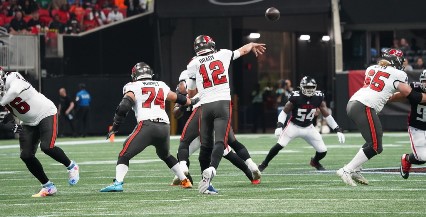 Believe it or not, a highly successful 30-year-old receiver playing with the Falcons and Matt Ryan made a surprise switch to Tom Brady's Patriots and couldn't find success.
That was Mohamed Sanu, who was traded from Atlanta to the Belicheats early in the 2019 season. 
Joe thought of the Sanu trade today when Colts head coach and former QB Frank Reich was raving about the "insane" throwing accuracy of Ryan, the new Colts quarterback.
It reminded Joe that freshly-signed Bucs receiver Russell Gage, who spent the last four years in Atlanta, was in a strong passing offense with an accurate quarterback. So it's a lot harder to imagine Gage is about to break out and do uniquely special things with Tampa Bay.
Joe put in the research to find a receiver who left the Ryan-quarterbacked Falcons and succeeded elsewhere.
It's a very short list considering Ryan spent 14 seasons in Atlanta.
Taylor Gabriel moved on from Atlanta to Chicago for the 2018 season and improved for the 12-4 miracle Mitch Trubisky season. Michael Jenkins was only slightly better when he jumped to the Vikings in 2011. Joe can't count count Lequon Treadwell with the Jaguars last season because he was rarely on Atlanta's active roster in 2020.
That about sums up the list of receivers who got better when they left the bosom of Matt Ryan.
Joe sure hopes Brady shatters the trend with Gage this season, and that Gage isn't his 2019 version of Sanu.