Report: Ryan Jensen Passing On Bengals Was Key Move To Retaining Tom Brady
June 3rd, 2022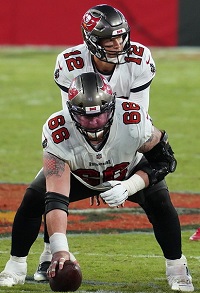 A supremely plugged-in insider said today he's quite sure of a couple things when it comes to Tom Brady.
Joe's refererring to NBC Sports super insider Peter King. He joined Pro Football Talk today and explained he's confident that center Ryan Jensen was ready to go to the Cincinnati Bengals when Brady called him. The gist from King was no Jensen return, then no Brady.
King also didn't discount the likelihood that Brady would play somewhere in 2023, a year for which he doesn't have a Bucs contract and reports say he cannot be franchised.
Per King, a key broadcasting insider is telling him Brady "owes it to his future" to take three hours every week this season to watch various announcing crews, all while taking detailed notes in order to prepare for his future FOX gig calling games. And King agreed wholeheartedly.
 Joe heard that and thought it was absolutely moronic.
When is all-in Tom Brady going to have time to devote three hours a week to something other than football, family, and his business interests? And why would Brady take 50-plus hours during the season when he can do that over two weeks in late February or March?
Joe is not writing off Brady playing for the Bucs in 2023. It's a long shot, but certainly possible if the Bucs can keep winning — and giving Brady what he wants.