Bucs Kept Their Promise To Zyon McCollum
April 30th, 2022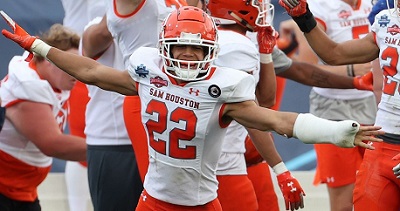 How refreshing to hear an NFL Scouting Combine story that doesn't involve a general manager blowing smoke or a head coaching planting nonsense in the media to confuse other clubs.
This story is about Buccaneers fifth-round pick Zyon McCollum. The Bucs traded up this afternoon to grab him, coughing up next year's fourth-round pick to Jacksonville to do it.
The pride of Sam Houston State met with the Bucs at the combine and they threw him a carrot. Per McCollum speaking this afternoon, via TampaBay.com writer Joey Knight's Twittering below, the Bucs told the young cornerback that they'd draft him if he ran a sub-4.5-second 40 yard dash.
McCollum crushed the sprint and was in the 4.3's. Within hours, he said, the Bucs advised his agent that they would make McCollum a Buccaneer.
It sure is odd that the Bucs would tell a guy they are going to draft him — seven weeks before the draft. Seven!?! The prospect or his agent could go out and tell other teams and screw up the Bucs' plans/hopes.
Regardless, Joe is glad the Bucs kept their word. That should give McCollum a ton of confidence.
McCollum said #Bucs told him at the combine they'd draft him if he ran a sub-4.5 40 (he ran a 4.33). "After the combine, I think the night that I had that performance at the combine, they texted my agent and said, 'Zyon McCollum's going to be a Buccaneer.'"

— Joey Knight (@TBTimes_Bulls) April 30, 2022