Buccaneers Trade Up For Tight End Ko Kieft In Round 6
April 30th, 2022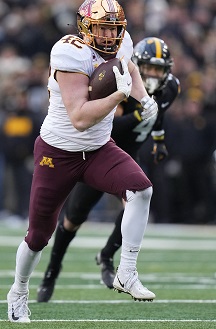 Joe's always in favor of drafting a player molded by Minnesota Golden Gophers head coach P.J. Fleck.
The former 49ers receiver and Bucs receivers coach is a high-octane leader of men and a damn good coach.
The Bucs just drafted Minnesota tight end Ko Kieft late in Round six and traded up two seventh-round picks to grab that pick from the Rams.
Kieft is a big dude at 6-4, 260 pounds and is known for his aggressiveness. He's not known for speed or hands. He had 12 career catches in four seasons with the Golden Gophers, a big reason why he wasn't invited to the NFL Scouting Combine.
If Kieft can block and beast on special teams, he will stick around.