2021 Bucs Coach Wants Antonio Brown To Play This Season
April 23rd, 2022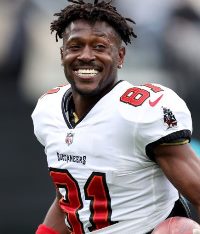 Furniture-hurling, bicycle-throwing receiver Antonio Brown impressed a lot of people at One Buc Palace last season, despite his historic nonsense in January.
A Tampa Bay assistant coach in 2021, A.Q. Shipley also played center for the Bucs with Brown during the Super Bowl season. Shipley visited The Pat McAfee Show this week and the subject of Brown arose.
To Joe's surprise, Shipley, a 12-year NFL veteran, went right into an appreciative tone for all that Brown gave the Bucs on a daily basis.
"It's such an unfortunate thing. He's such a good player. He worked harder than almost anyone I've ever seen, like honestly. Practices super hard," Shipley began, before explaining that Brown didn't take rest breaks in practice.

"He never took a period off. Like if the offense was off, you know typically you're catching your breath waiting for the next period of practice, he's grabbing Tom and going and running routes in the end zone. He's grabbing Tom and working on hots and sights. Whatever it is. Or he's over at the Juggs machine catching another 50 balls. He works so hard. You can never say a bad word about that.

"I think you've probably heard plenty of people say that you kind of wish that [the blowup with Bucco Bruce Arians] didn't escalate as quickly as it did. And I think I would echo that statement. But it is what it is. It happened the way it is. It's unfortunate. Hopefully he gets another shot."
Bucs quarterback coach Clyde Christensen was the first Bucs assistant coach to come out and say Brown getting kicked off the team was "too quick and too severe."
That was in late January. It seems Shipley, who left the Bucs coaching staff in February to be a full-time family man in Arizona with his three young kids, feels just like Christensen does.
Joe had no problem with Arians launching Brown when he did. There were no guarantees that Brown wouldn't have made things worse for the team by sticking around. But it's interesting to hear Bucs coaches feel so uneasy about the decision.
Joe wonders what Tom Brady thought.