Drafting With Clarity
April 23rd, 2022
BY IRA KAUFMAN
Tom Brady just tossed his first touchdown pass of 2022.
On the receiving end were the grateful Buccaneers, who suddenly have an additional $9 million in cap space because of Brady's willingness to restructure his contract.
This has all the hallmarks of a 1-2 punch at One Buc Place, maybe even a 1-2-3 punch.
Tampa Bay now has the flexibility to welcome Brady's good buddy Rob Gronkowski back to the fold for one last championship run. It's not done until it's done, but you have to believe Brady and Gronk are talking every day and we know how persuasive No. 12 can be as a recruiter.
Gronkowski may end up refusing Brady's pleas, but if he plays anywhere this fall, it's going to be in Tampa.
The odds are prohibitive that the issue has already been decided in advance of the draft. You can be sure Jason Licht is up to date on any intel Brady has gathered about Gronk's plans. At this point, less than a week before the draft, the Bucs need clarity regarding Gronkowski and Ndamukong Suh. They have been essential contributors to a franchise that has won 29 games in the past two seasons, including a Super Bowl.
Let's acknowledge the cupboard is bare at tight end if Gronkowski calls it quits.
Cameron Brate is a solid backup, but the Bucs would be hurting at the position entering a draft that isn't exactly overflowing with elite tight end prospects.
You see Kyle Pitts in this class?
A Gronkowski reunion is likely in the works. Pay the man his money.
He's a first-ballot Hall of Famer who is still a major red-zone threat at the age of 32. If Gronk wants to go Hollywood, there isn't much Licht and Todd Bowles can do — but Brady has proven to be a heck of a closer.
Suh is still on the free-agent market and there are few reports linking him to interested suitors. That's because his biggest interested suitor is Bowles, who respects Suh's competitiveness, durability and leadership.
Once again, the Bucs are not negotiating from a position of great depth here. Vita Vea is the only defensive tackle on the roster that compares to Suh, so he has some leverage.
Retention Pond
Encountering a soft market, Suh may not have an array of attractive options. As usual, it will come down to money. Since Brady came aboard, the Bucs have proven to be quite adept at retaining players they deem indispensable, so don't expect to see Suh in a different uniform this fall.
Now we come to the most interesting aspect of Brady's restructured contract … there's no extension. He's still slated to be an unrestricted free agent in 2023.
All signs point to this being Brady's final season in Tampa. Until an extension is signed, the Bucs have to operate under that assumption.
That doesn't mean they need to reach for a quarterback next week. It's not crazy to believe Kyle Trask is a better prospect than any quarterback in the 2022 class. The Bucs are thinking short term as Licht asks his scouting staff one critical question: who will make us a better team this fall?
If Brady's tenure with the Bucs ends after three years, no Tampa Bay fan or member of the organization should feel cheated. Instead, the overwhelming feeling will be one of gratitude for his transformational presence.
This is more about who's coming rather than who's going.
If Gronkowski and Suh return, the Bucs will own the best roster in the NFC. The schedule is challenging, the division is weak and the excitement is building from Myakka City to Munich.
Friday's restructure of Brady's contract is another positive development in a frenetic offseason.
An extension would be ideal and Buc fans are greedy. They want it all, knowing they've already got it good.
What about Gronk? What about Suh?
We'll know soon enough. Here's betting Licht, Bowles and Brady already know.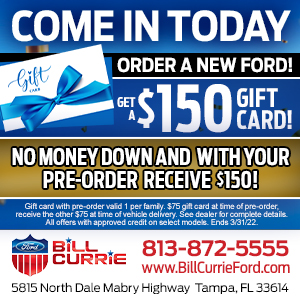 Enjoy the latest Ira Kaufman Podcast!