Jameis Winston Gets Low-Level Starter Money In New Orleans
March 21st, 2022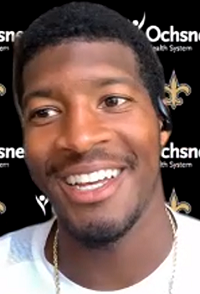 Injured Jameis Winston, America's Quarterback, is returning for his third season in New Orleans to compete for a starting job.
Damn, the NFC South has a bunch of weaksauce quarterbacks outside of Tampa.
Jameis, 28, got $21 million guaranteed as part of a two-year, $28 million contract. He and Taysom Hill will vie for the heart of new head coach Dennis Allen.
Yes, today's chatter out of New Orleans says Jameis will have the job and Hill is out of that conversation. But Joe is not buying it, not with Jameis coming off an ACL tear courtesy of Buccaneers savior linebacker Devin White on Halloween.
If Jameis isn't ready for training camp, then the starting gig is likely to be a very open conversation.
Joe loves the state of the Saints' quarterback situation, and Marcus Mariota as the lead dog in Atlanta and Sam Darnold looking over his shoulder in Carolina. The only thing better would be the Panthers bringing in Ryan Fitzpatrick to mentor Darnold.