Yes, It Was A Horse Collar; And It May Have Locked Up The NFC South For Tampa Bay
November 1st, 2021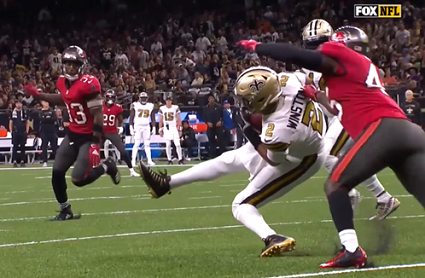 From the NFL rulebook: No player shall grab the inside collar of the back or the side of the shoulder pads or jersey, or grab the jersey at the name plate or above, and pull the runner toward the ground. This does not apply to a runner who is in the tackle box or to a quarterback who is in the pocket.
The screenshot above is the moment savior linebacker Devin White dragged scrambling Saints QB Jameis Winston to the ground yesterday and, subsequently, Jameis tore up his left knee and didn't return.  Preliminary reports say he blew his ACL and is done for the year.
Ugly injury. An unfortunate result of an unlawful but aggressive-without-malice play by White.
However, it might be the biggest play of the Bucs' season to date.
Yeah, nobody third-stringer QB Trevor Siemian carved up and beat the Bucs in Jameis' absence. But does anyone really believe the Saints can succeed long-term with Siemian or even with No. 2 quarterback Taysom Hill, whenever he returns from a concussion.
Jameis isn't great, but Joe believes the loss of him at least costs the Saints a game remaining on their schedule. And that schedule includes the Bills, Cowboys and Titans, in addition to the Bucs.
Joe's not cheering a dude's injury, but Joe appreciates what White's fire and hunger delivered yesterday in that moment.