NFL Network: A Tom Brady Comeback Is In Play
February 13th, 2022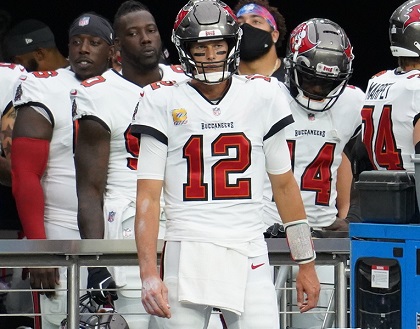 Tom Brady's cold retirement feet are now on ice, it seems.
Joe can envision Brady on his hands and knees weeping, begging his wife for permission to play one more season.
Perhaps she blessed one more year?
In a stunning report this morning on NFL.com, league-employed reporters Ian Rapoport and Tom Pelissero wrote about how the Bucs are doing their homework on creepy, sleazy Deshaun Watson and Russell Wilson to replace Brady while simultaneously prepping for whatever demands Brady has to play again in 2022.
The Buccaneers are leaving the door open for Tom Brady in case the legendary quarterback changes his mind on retirement, and sources say they would do whatever is necessary for him to return — a possibility Brady himself isn't completely ruling out.
If not, the Bucs have shifted their focus to other veteran QBs who could be available via trade. Sources say they're doing extensive homework on Texans quarterback Deshaun Watson and are one of multiple teams expected to explore a potential trade for Russell Wilson, though the Seahawks have given no indication they'll deal him.
Joe has to smile thinking of Brady being annoyed less than two weeks ago about ESPN reporters breaking the news of his retirement, in part because he didn't want to distract from the remaining postseason games. And then Brady retired a day later but reopened the window to return six days after that.
And now, on Super Bowl morning, top league reporters are trumpeting the foundation for a Brady return.
Man, Brady sure seems to be pulling all the strings.
Regardless, there's clearly an opportunity here for the Bucs, however small it may be.
Time for Team Glazer, Jason Licht and Bucco Bruce Arians to close the deal.
Super Bowl party shopping is about to kick off.
Find your closest @BigStormBrewing taproom. https://t.co/ahQRb5KQMU
Or get to Publix and other smart retailers.
Be the best guest you can be!
Bring Florida's best craft beer. ✅ pic.twitter.com/038gcTLHz9

— JoeBucsFan (@JoeBucsFan) February 13, 2022