Le'Veon Bell Proves His Worth
January 2nd, 2022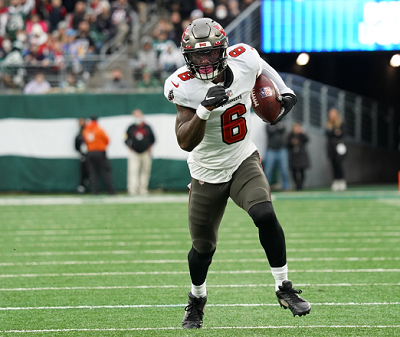 It blows Joe's mind to see Le'Veon Bell contributing in a big January game for the Buccaneers' title quest.
What a strange season it has been.
Bell, 29, the former all-everything and defiant superstar running back, was out there today against the Jets, pressed into duty with Ronald Jones injured and the depth chart down to Ke'Shawn Vaughn.
Yes, it was Bell who the Bucs trusted to block for Brady and be a smart outlet out of the backfield on the game-winning drive against the Jets.
The Bucs pulled Bell off the street just before Christmas (thanks to the Jason Licht machine) and there he was catching the three targets that came his way today for a total of 30 yards.
It's obvious Bell's hands are smooth and his chemistry with Tom Brady appears to be something more than what you'd expect from two guys that have spent little time together. Yeah, Lesean McCoy made a few plays early last season, but Joe already feels like Bell is an upgrade at emergency running back — which has quickly become an important position.
Bell said after the game that he's already comfortable with the Bucs' playbook and he expects his comfort level to improve rapidly, "nothing I can't pick up."