"Always On The Same Page"
January 1st, 2022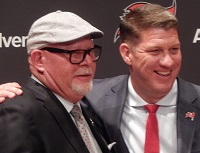 If the Bucs win 13 games, does general manager Jason Licht deserve the NFL Executive of the Year award?
It's a good debate over an ice cold Big Storm beer.
Licht was universally lauded for somehow managing to bring back an entire Super Bowl roster, unprecedented in the modern era, in addition to re-signing key backups like Rakeem Nuñez-Roches, Aaron Stinnie and more.
If the Bucs indeed find their way to 13-4, they would have gotten there relying heavily on their depth. One of many examples, the Bucs have 8 1/2 sacks combined from Joe Tryon-Shoyinka, Anthony Nelson and Cam Gill.
While the media types who vote for Executive of the Year honors routinely focus on impact free agents and the new draft class, in addition to team record, Joe thinks Licht's unique 2021 resume should get strong consideration.
Recently on the Buccaneers Radio Network, team VP of Player Personnel John Spytek peeled back the curtain a bit on why the Bucs are so efficient and effective at in-season moves.
"The line of communication between [Licht and Bucco Bruce Arians] is such that they're always on the same page," Spytek said. "So it takes nothing more than a couple minute conversation to be like, 'Here's what happened; here's what we need.' — from Bruce to Jason.

"Jason comes to us, 'This is what we're looking for. Who's out there?' We have a list. We talk together. We pared the list down. We make one choice. Le'Veon [Bell] made the most sense … and 24 hours later he's out here practicing."
Spytek explained the fluid front-office process of evaluating available players around the league and ranking their potential fit with the Bucs.
In the case of Bell, who was signed when Leonard Fournette pulled his hamstring, Spytek made it sound like Arians barked that he needed a third-down back that wouldn't crumble in the playoffs.
"Le'Veon's experience in [the passing game] spoke to us," Spytek said, noting Ronald Jones has limited accomplishments in the passing game and Ke'Shawn Vaughn hasn't had enough of a shot to prove himself.
It's clearly a seasoned machine in place under Licht at One Buc Palace. After eight seasons and a lot of lessons learned, it should be. And it is.