"He Grew Increasingly Frustrated With The Culture"
January 30th, 2022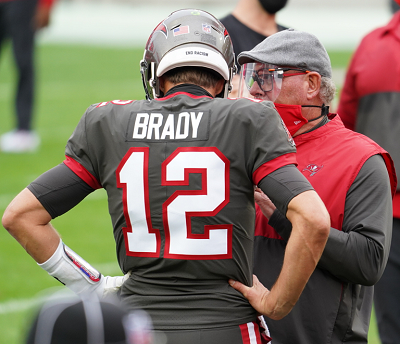 Is Tom Brady possibly quitting because he has run out of patience with the Bucco Bruce Arians regime?
This line of thinking is being peddled by two prominent sources.
Yesterday, Colin Cowherd was bloviating on The Volume network and talking about how Brady "grew increasingly frustrated with the culture" in Tampa.
"I think deep down at the end of this year, he missed the academic nature, the intensity, the predictability of [Bill] Belichick," Cowherd continued.
Joe normally would have blown that take off as the FS1 star and long-time national radio personality running his mouth cluelessly. But earlier in the day Joe read noted author and longtime Patriots insider Seth Wickersham's long Brady piece for ESPN+. He was chirping a similar theme.
But this season, something changed. Brady is a process guy, and as much as he liked his coaches personally, Tampa Bay wasn't as buttoned-up as Belichick's Patriots, and that was evident at the end of the Rams game. The Bucs are in transition, having gone all in to win with Brady and now brought back to earth with salary-cap and roster issues. And this year, more than any other, Brady stepped beyond the football field. He started a podcast with his friend, broadcaster Jim Gray, and Larry Fitzgerald. He starred in "Man in the Arena" on ESPN+. He continued pushing TB12 then launched the Brady Brand clothing line.
The Wickersham piece is long and behind a paywall, but his implication was along the lines of Cowherd's — Brady turned cold on the coaching approach of the Arians regime.
Joe wouldn't wager on any of this being accurate. Brady is a smart guy and the Bucs have won 22 of their last 27 games, including a Super Bowl. That's not the result of questionable coaching. Plus, Brady already fixed the Bucs' practice approaches that troubled him.
However, it's at least possible that Brady saw how sloppy the Bucs were against the Rams, especially on that final drive, and got angry like a lot of Bucs fans did. If so, then there's a great chance he cools down and grabs a football again this spring.