Report: Bucs Coaches Meeting Tom Brady's Demand For "Better Midweek Preparations"
November 30th, 2020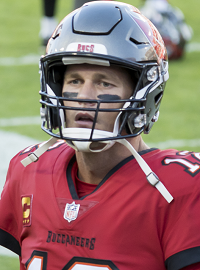 This is a good one from a reputable reporter who always seems extremely closely connected to Tom Brady's inner circle.
Former NFL Network reporter Jeff Darlington, a proud Pinellas County product, works for ESPN and has been ahead of the curve on all things Brady since before he arrived in Tampa.
Prior to the Bucs-Chiefs game yesterday, Darlington spoke on television about his talks with the Brady inner circle and Bucs hierarchy.
Of course, in typical BSPN style, what Darlington learned doesn't quite jibe with his recently hollering colleague, Rob Ninkovich, a former Brady teammate.
Darlington says "people close to Brady" say he's super happy in Tampa and enjoys Bucco Bruce Arians' straight-shooter ways. But Brady appears to want better coaching, per Darlington, and the Bucs responded.
"Brady wants to see better midweek preparations, better situational planning. So that at the end of games, like the one against the Rams, they're in a better spot," Darlington said. "Speaking with high-ranking Bucs sources, they say that they feel like they recognize that and they have worked [last week] to try to make some corrections in that area."
Joe is intrigued by the timing of Darlington's comments. Leading up the Rams game, Arians gave Bucs players an extra day off and went lighter on the practices and changed the team's schedule. Per the Monday Night Football broadcast, Brady was no fan of the new night practices because they got in the way of his 9:15 p.m. bed time.
Also interesting to Joe is last week's alleged better preparation leading to the Bucs soiling their pants in the first quarter yesterday.
Some words about the state of affairs in Tampa, where the relationship between Bruce Arians and Tom Brady has created quite the topic of conversation: pic.twitter.com/1aGnDuCIXd

— Jeff Darlington (@JeffDarlington) November 29, 2020