Hidden Hero
December 13th, 2021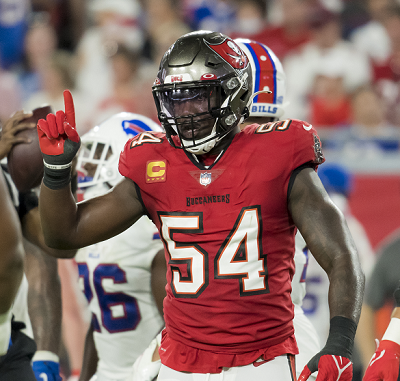 A touchdown-saving, likely-game-saving tackle was made with 29 seconds remaining in the fourth quarter yesterday.
It went under the radar, partly because of the stress of the moment and the nature of the play, and maybe be some fans were flabbergasted by the loafing on the play by rookie Joe Tryon-Shoyinka.
After Richard Sherman's open field tackling whiff on tight end Dawson Knox set the Bills up with a 1st-and-10 on the Bucs' 15 yard line with 54 seconds remaining. Buffalo trailed by a field goal and Bills QB Josh Allen threw incomplete to the right side with Lavonte David covering Knox on the play.
Next up was 2nd-and-10 with 35 seconds remaining. Allen took the shotgun snap and took off running left. He got past Tryon-Shoyinka who appeared to give up on the play (and considering the rookie was the first guy sprinting and celebrating with Breshad Perriman on the game-winning touchdown, Joe will assume Tyron-Shoyinka isn't hurt).
Allen had a path to the end zone, but in came Lavonte David to push him out of bounds as Allen streaked past him (Screenshot below.)
Without that play, Joe thinks the Bucs would be head-shaking losers this morning.
David hasn't been playing his typical A-list game in a while. Perhaps it's his ankle. But when the Bucs needed him most, he delivered in the underappreciated way David seems to do just about everything.