Lavonte David Is Not 100 Percent
November 10th, 2021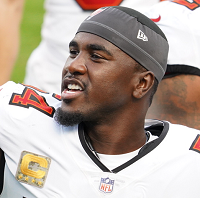 Bucs fans were treated to Lavonte David back on the field last week in New Orleans following a sprained ankle against Miami on October 10.
David seemed to move well but didn't shine quite like the superstar he is.
Was he healthy?
David explained to the Salty Dogs podcast that he's doing very well but he's still on a path to full recovery, as set by team doctors and trainers.
"Feeling great. You know, we had a plan and we stuck with the plan and they got me back on the field as quick as I can," David said when asked about his health. "Still a lot of work to do, but for right now everything is going well on the up and up, so I'm just sticking with my plan to do what they want me to do so I can get back to where I need to be."
David added that it was better to play before the bye week and test the ankle than to wait until after the bye. If he had a small setback in New Orleans, David said, then that would have been ok because of the extra week to heal. But testing the ankle and succeeding was the best scenario.
"Now I can go out there [on Sunday in Washington] without thinking about my injury," he said.
Joe is very encouraged by all the healing Bucs. Of course, Joe doesn't expect much from anyone in his first game back from injury. So Joe is not expecting Sean Murphy-Bunting to save the Bucs secondary, or Richard Sherman.
But barring more setbacks across the team, the Bucs should be in a great place physically for the post-Thanksgiving stretch run.