Ira Kaufman's 10 Takeaways From Bills-Bucs
December 13th, 2021
BY IRA KAUFMAN
Had it all the way. Just kidding.
Style points don't count in this league, especially when you're hunting the NFC's No. 1 playoff seed. The final scoreboard read 33-27, Bucs, in overtime as Tampa Bay held off a desperate, talented opponent.
The Bills needed this game badly but they were outclassed through 30 minutes as the Bucs built a 24-3 advantage. Josh Allen looked like Patrick Mahomes in the Super Bowl, on the lam all over Raymond James Stadium to get away from a ferocious pass rush led by Shaq Barrett.
But Allen wouldn't allow Buffalo to be stampeded.
In becoming only the third QB in NFL history to throw for at least 300 yards and run for at least 100 in the same game, Allen played with grit and guts. He ran the Buc defense dizzy and it took a third-down stop at the Bucs 7-yard line in the final seconds of regulation to force Buffalo to settle for a game-tying FG.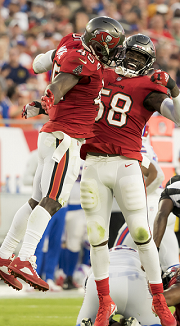 Tom Brady did the rest, completing all four of his throws in overtime.
The winning 58-yard TD dart to Breshad Perriman came on third down against one of the league's premier pass defenses.
Now Bruce Arians gets to chew out his players after a win. That's the best of both worlds for a head coach. The Bucs were outworked badly in the second half, but they extended their winning streak to four games and the rest of the regular-season schedule looks quite favorable.
Here's how the Bucs took another step toward an NFC South title and damaged Buffalo's fading wild-card hopes:
* Brady cooled off in the second half, but he set an ornery, aggressive tone for the Bucs from the start. He ran with abandon, giving Arians agita in the process, and guided an attack that converted 8-of-16 on third down against a formidable defense. The TD strike to Perriman was vintage Brady, looking off the secondary before delivering an accurate ball on time.
* Barrett tormented Allen all day, finishing with 1 1/2 sacks and 5 of Tampa Bay's 11 QB hits. It took every bit of Allen's athleticism to avoid more takedowns. He kept hobbling to the sidelines, only to victimize the Bucs time and again in the second half. Barrett is tuning up for a huge January.
* Awful game plan by the Bills in the opening half, with zero carries by Buffalo running backs. Sure it's really hard to run on the Bucs, but we just saw Devin Singletary and Matt Breida combine for 64 yards on seven second-half carries. Do you want Allen dropping back 57 times against this pass rush?
* Chris Godwin and Mike Evans combined for 16 catches and 196 yards against an elite pass defense. That's 25 receptions in the past two weeks for Godwin, who is unstoppable at the moment in the middle of the field.
* Buffalo's second-half production shouldn't obscure the positives for the home team Sunday. The Bucs didn't turn the ball over and committed only four penalties for 24 yards. Allen almost willed his team to a dramatic victory with 19 first downs after halftime, but in the end it wasn't enough because the Buc defense finally made a play in the red zone and Perriman — of all people — came up big.
* Tampa Bay's tackling showed improvement from the Atlanta game and Devin White made more of an impact with 10 stops and 1 1/2 sacks. Still, on a rather sultry afternoon at RayJay, 81 degrees and 69 percent humidity, it was the Buc defense that wore down rather than the visitors from up north.
* At the moment, Leonard Fournette is one of the five best backs in the league. There, I said it.
* Tampa Bay's ground game was disappointing after a dynamic opening half. Buffalo's defensive line kept shutting down the running lanes while the Bucs were trying to work the clock with a lead. Except for a 21-yard scamper by Fournette early in the fourth quarter, Tampa Bay's run game went nowhere in the final 34 minutes.
* Now you know why Allen finished second to Aaron Rodgers in league MVP voting last season. The respect for him within the Tampa Bay locker room just went up exponentially. He absorbed such a beating, Allen needed a walking boot after the game. Even Buc fans had to admire his toughness.
* Bring on the Saints, another desperate club clinging to wild-card aspirations. Wouldn't it be lovely to officially dethrone New Orleans as division champ in person, ending Sean Payton's 4-year stranglehold on the NFC South crown? Alvin Kamara is back — but so is Tampa Bay's home-field dominance after a lengthy leave of absence.